Relieves swelling and strengthens your immune system
This massage technique consists of manual manoeuvres which stimulate the circulation and promote the elimination of excess water retained during pregnancy.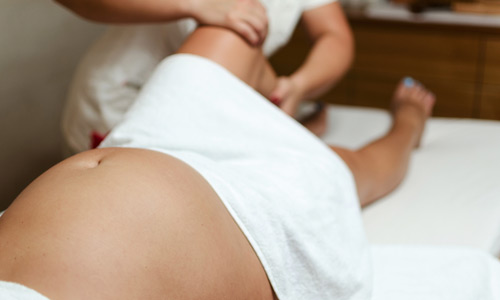 What it involves
In addition to reducing and relieving feelings of heaviness, lymphatic drainage:
Stimulates and boosts the blood circulation, thereby improving skin tone.
Eliminates toxins and strengthens the immune system.
Instantly relieves swollen legs and ankles.
Relaxes body and mind.
Reduces other kinds of discomfort related to pregnancy, such as sciatica and low back pain.
Especially recommended in the last trimester of pregnancy.

The personalised lymphatic drainage sessions provided by our Physiotherapy Unit are tailored exclusively to your needs.

Get your lymphatic drainage sessions at exclusive rates with our 5-session voucher.

Our team of physiotherapists specialises in looking after pregnant women.

Our dedicated physiotherapy room is equipped to allow us to provide comprehensive and high-quality services on site, so that there is no need for you to travel to other facilities.

We will work around your schedule, to help you organise your visits to the clinic.
---