At Dexeus Mujer, we accompany our patients throughout the various stages of their lives, offering comprehensive care in Obstetrics, Gynaecology and Reproductive Medicine. To this end, you will have access to a 100 team of specialists in women's health who all share a common commitment: to provide high-quality medical care through teamwork and the most advanced technology.

Our women's health clinic, which is located in Barcelona, is one of the largest and most specialised in Europe. All the services required to attend to any need and to provide fast, convenient and personalised care in one space.
Facilities
Our Department of Obstetrics, Gynaecology and Reproductive Medicine belongs to the Hospital Universitari Dexeus, so that we can offer our patients hospital facilities with first-class medical and surgical care in all specialities.
The hospital also boasts a solid team of more than 400 physicians and is equipped with the latest functional and technological advances of cutting-edge medical centres in order to provide you with all the healthcare resources you might need.
Click here to be redirected to the website of Hospital Universitari Dexeus.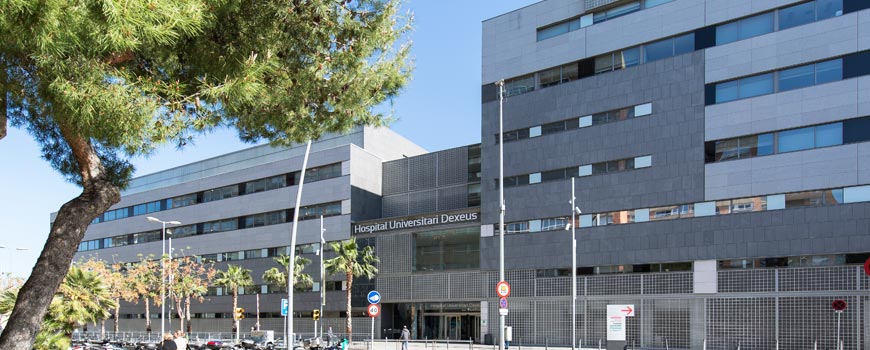 The aim of the Dexeus Mujer Centre is to offer patients all the services they need all in one place. Thus, all consultations, tests and procedures are performed on our premises, in a new building equipped with the latest technology.
Our facilities, which were inaugurated in 2007, are designed to provide a highly personalised, fast and convenient service thanks to an integrated circuit in which diagnoses, treatments, consultations and interventions are centralised. The new Assisted Reproduction lab was also inaugurated in September 2017.
The six departments of Dexeus Mujer are distributed over three floors: Consultation rooms, Additional tests, Laboratories, Management and Administration, Complementary healthcare services and General services.
In addition, thanks to our special partnerships with technological equipment suppliers, we always have access to the latest innovations in diagnostic imaging: gynaecological ultrasound, digital mammography, obstetric ultrasound, etc.
---
---
Where we are
Gran Via Carles III, 71-75. 08028 Barcelona

+34 93 227 48 96
Opening hours
Monday to Friday: 08:00 am - 09:00 pm.
Weekends and bank holidays: 08:30 am - 02:30 pm.
How to get there

Subway: Line 3

María Cristina station.

Bus: Line 59, 70, 72 and 75.

Tramway: Line T1, T2 and T3. María Cristina station.

Rail: Rodalies Renfe - Line R1, R2, R2 Nord, R2 Sud, R3, R4 and RG1. Sants station.

Rail: Long and Medium Distance Renfe. Sants station.
Dexeus Mujer Auditorium

Sabino Arana, 34 - 1st left.
---