Take care of your health and enjoy a more fulfilling sex life
Sexual dysfunction and other problems related to sexual activity influence the quality of life and relationships as well as self-esteem and personal well-being. Dexeus Mujer has therefore set up a special Sexuality Unit to respond to all these problems and take care of your sexual health.
Lack of sexual desire, vaginal dryness, pain during intercourse, difficulty achieving orgasm and vaginal atrophy are common disorders that women do not always seek help for, either because they do not know who to turn to or because they accept them as being a normal consequence of the ageing process, pregnancy or childbirth. However, all of these issues can be treated and, in most cases, solved.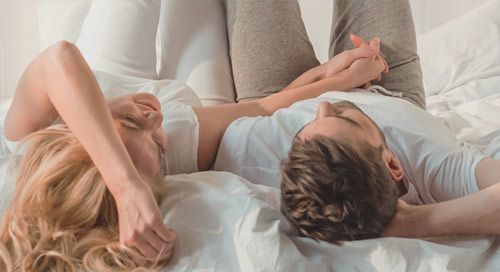 In addition, our clinic boasts a large multidisciplinary team formed by experts in sexual health and other specialities (psychology, genital pathology, regenerative and functional gynaecology, pelvic floor physiotherapy and menopause) who work in coordination to provide the most appropriate treatment in each case and will refer you to other specialists if necessary. If your partner is male, we have a special sexual health unit dedicated to the treatment of men's problems such as erectile dysfunction or premature ejaculation that may affect him and your relationship.
Services
Treatment of functional disorders: vaginal dryness, loss of muscle tone and elasticity after pregnancy or childbirth, etc.
Counselling to improve sexual response.
Prevention, detection and treatment of sexually transmitted infections.
Treatment of sexual dysfunction (vaginismus, loss of libido, pain during intercourse, etc.).
Answering of questions about contraception.
Emergency contraception.
Answering of questions related to sexuality and gender identity.
Improvement of the quality of life and personal satisfaction in the sexual sphere.
---
In which cases it is recommended

If you have questions or would like more information on issues related to sexuality.

You have a sexual dysfunction: vaginismus, vulvodynia (pain in the vulvovaginal area), dyspareunia (painful intercourse), inhibited sexual desire or orgasm.

If you suffer from some physiological disorder: vaginal dryness or loss of elasticity, etc.

If you would like a sexual health check-up.

You have been exposed to situations of risk of transmission of sexually transmitted infections (STIs).

You are interested in receiving advice on contraception.

You are at a vital stage in life which, for medical or physiological reasons, involves changes that may affect your sexual activity:
Menopause

Premature ovarian failure

Pregnancy and post-partum

Cancer treatment

Gynaecological problems

Surgery
---
Why choose us

Dexeus Mujer is a clinic which specialises in women's health and a pioneer in Spain in the introduction of the latest medical advances in the field.

Dexeus Mujer gives you access to a large multidisciplinary team formed by experts in sexual health and other specialities (regenerative and functional gynaecology, physiotherapy, gynaecology of adolescence, menopause and psychology) who work in coordination to treat these problems.

Examinations and medical tests take place in the same clinic, so that there is no need for you to travel to multiple facilities.

Our specialised Men's Health Unit with men's sexual and reproductive health problems which can also affect the couple's relationship.

We support our patients through any stage of their lives, providing comprehensive care from adolescence to adulthood and elderly age.
---
Testimony
Neus Martín, aged 41
"After the birth of my second child, I really struggled to reignite my relationship with my partner. I was exhausted and had zero libido. In addition, since I gave birth to both my children vaginally, I was more sensitive and had lost some of my vaginal muscle tone. I thought this was normal, but my gynaecologist openly asked me about it during a check-up, so I explained the situation and she referred me to the Sexuality Unit. The doctor who looked after me helped me get back my sex drive and advised me to do physiotherapy exercises to regain my muscle tone. I must say that it's done me a world of good. I recommend it 100%!"
---
---