Your pregnancy, in the best hands
If you want a pregnancy with guarantees, then take comfort knowing that you're in the best hands at a reference centre with experts in high-risk pregnancy. Your maternity with total safety.
Your pregnancy at Dexeus Mujer
Your antenatal care includes medical visits, laboratory tests, ultrasounds and any additional tests that the gynaecologist deems necessary for proper prenatal diagnosis and monitoring of foetal well-being before delivery.
If your pregnancy is low risk, antenatal care includes: a monthly medical visit until the last month of pregnancy (when the visits are weekly), three blood and urine tests and ultrasound scans at weeks 8, 12, 21, 32 and 40, if applicable.
If your pregnancy is high risk, the controls will be more comprehensive and follow the specific medical protocol for each situation.
When do we talk about high risk pregnancy?
In twin or multiple pregnancies.
When there is a history of complications in previous pregnancies: miscarriage, prematurity, hypertension, etc.
If you are aged under 18 or over 40.
If you have a family history of hereditary abnormalities.
If you have an illness (anaemia, hepatitis, malnutrition, diabetes, obesity, hypertension, infectious diseases, etc.).
If you have an addiction (alcoholism, smoking, etc.).
If you are pregnant and in any of these situations, book an appointment now with one of our high-risk pregnancy specialists.
Taking care of yourself during pregnancy is essential. Adopt healthy habits and enjoy this stage!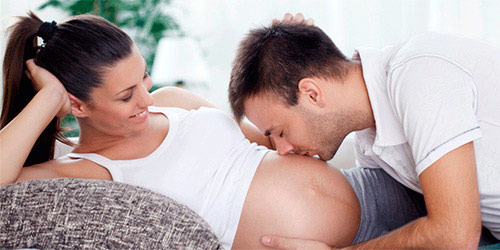 ---
Visits and controls
Once you've had your first antenatal visit at Dexeus Mujer, we will schedule all the visits and tests that you'll need right up to the end of your pregnancy at times to suit you, so that you have your entire pregnancy planned out and can enjoy this stage as you deserve to.

First trimester
(Up to week 13)
1st antenatal visit
Weeks 7-10.
Complications are ruled out and the first instructions are given.
Monthly antenatal visits
Tests:
1st trimester laboratory tests.
1st trimester ultrasound (Weeks 8-10).

Ultrasound and biochemical screening for aneuploidy.

Second trimester
(Weeks 14 to 28)
Monthly visits
Tests:
2nd trimester laboratory tests.
2nd trimester ultrasound (High definition).

Monitoring of the pregnant woman's health status.
Third trimester
(Week 29 to birth)
Monthly visits (weeks 28 to 32)
Fortnightly visits (weeks 32 to 38)
Weekly visits (from week 38)
Tests:
3rd trimester laboratory tests.

Control of foetal condition.

Electrocardiogram.
---
We provide answers to all your questions
Pregnancy is one of the most important times in the lives of many women. During this period, the body goes through physical and mental changes that can cause some discomfort and which, in general, also raise many questions. This is why we at Dexeus Mujer want to answer your most common questions and offer all the options for you to solve them:

Routine visits
You can talk to your gynaecologist about any concerns you have at your routine visits.

By telephone
If you have signed up for the Pregnancy Plus service, you can call your gynaecologist whenever you need to.

Appointment in 24h
For all your questions and concerns, you can contact appointment in 24 h service where a team of gynaecologists will visit you Monday to Friday from 8 a.m. to 8 p.m. If your visit can wait, make an appointment with your gynaecologist.

Emergencies
When you are pregnant, listen to your body and go to the emergency department of the Hospital Universitari Dexeus if you have any of these symptoms:
Vaginal bleeding similar to a menstrual period.

Fever.

Difficulty breathing.

A rash or general itching.

Urinary discomfort.

Vaginal discomfort.

Severe abdominal pain.

Vision problems.

Regular contractions (6 or more in an hour).

Leaking fluid from the vagina.
---
Why let us look after your pregnancy
At Dexeus Mujer, we strive to provide a high-quality service and comprehensive care for all our patients, every single day. Our goal is to help you enjoy a safe pregnancy without setbacks, so that you can live out your motherhood safely and calmly.

Our clinic manages the highest number of pregnancies of all the private facilities in Catalonia (more than 3,000 deliveries each year)

We are pioneers in prenatal diagnostic techniques, in foetal care and in the treatment of diseases, with access to state-of-the-art ultrasound scanners and cutting edge technology.

Dexeus Mujer is a reference in the management of high risk pregnancy and one of the few private clinics to be equipped with a neonatal ICU which allows us to deal with complications such as pre-term labour.

Our Committee of Experts (gynaecologists, paediatricians and geneticists) meets weekly to assess each case in a personalised manner and establish appropriate guidelines.

We have a Appointment in 24 h, during the day, to which you can go with any questions or concerns.

Our experience in monitoring pregnancy and assisting delivery in women over 40 speaks for itself.

You will be in the best hands, in a first-rate hospital environment with access to an on-call healthcare team (obstetricians, paediatricians and anaesthetists) 24/7/365.


At Dexeus Mujer, we have over 80 years of experience in looking after the health of our patients.
---
---