A plan for beginning your pregnancy with everything under control
We know that from the moment you decide to get pregnantmany questions will suddenly come to mind. What can I eat? Should I continue playing sports? Do I need to take any tests before I get pregnant to make sure everything is okay? Does my partner need to consider anything? If your partner or yourself have any kind of health problem (hypertension, diabetes, coagulation disorders...) your doubts and uncertainty will only increase further. That is why at Dexeus Mujer we have created a Unit that is specialised in Pre-pregnancy Assessments.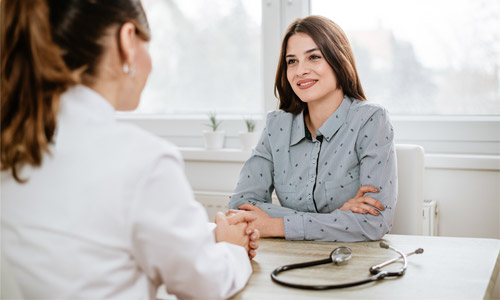 What does this involve
In this Unit we carry out a full evaluation of your health and assess you to ensure that you are as healthy as possible before becoming pregnant, identifying any possible health problems that we can correct.
This involves:

An initial visit to understand your history.


A gynaecologic ultrasound.

Breast exams (if you are over 40 years old).

Furthermore, since we have specialists from a variety of areas (endocrinology, nutrition, psychology, genetics, cardiology, internal medicine, natural therapies, etc.), we can look after you from a multidisciplinary perspective.
Who is it for
It is estimated that more than 20% of women who want to become pregnant have a health problem that could affect the course of the pregnancy, but nevertheless this problem can be identified through a medical visit and easily corrected.
A pre-pregnancy assessment is therefore advisable for all women who wish to become pregnant, as it has been shown to improve obstetric outcomes. You can also be assessed through a visit to your usual gynaecologist if you do not have a specific indication advising you to visit the Pre-pregnancy Assessment Unit.
The Pre-pregnancy Assessment Unit is particularly advisable for women who:
Are 45 years old or older.
Are 40 years or older, but with other additional health problems.
Suffer from diseases such as chronic hypertension, type I/II diabetes, coagulation disorders, heart disease, arrhythmias, psychiatric disorders under treatment, epilepsy, kidney disease, autoimmune disorders, or any other relevant diseases.
Take lifelong medications.
Have a history of multiple uterine surgeries.
Suffer from obesity (body mass index greater than 30).
Suffer from any of the following infections: HBV, HCV, HIV, active syphilis.
Have had a sexually transmitted disease in the past few years.
Actively use of toxic substances (tobacco, alcohol, cannabis or others).
Suffer from anxiety or depression and want to get pregnant.
---
How we can help you
As with so many things in life, prevention is the best strategy for preventing problems. Every woman is different and in each case there will be many different things that can be done to improve your health and thus the health of your future child.
Initial assessment of your health and identification of potential problems that can be corrected.
Modifying a lifestyle that is harmful and that needs to be changed before pregnancy.
Evaluation of your state of mind, which is as important as your physical condition. We will identify any potential mood disorders related to you seeking fertility and pregnancy.
In some cases, an indication of necessary pharmacological treatment to correct any diseases.
Joint assessment with other specialists should the medication be harmful to the pregnancy, seeking alternative treatments.
If you are going to undergo assisted reproduction treatment, we will assess you before starting the process to improve the chances of success as well as your experience of the process itself.
You will have access to the support, understanding and professionalism of a multidisciplinary team who will help to ensure that you are in the optimum condition for pregnancy, so that you can enjoy motherhood, before, during and afterwards.
In the same centre, we also have specialists from other areas that will provide support for those cases that require a more specific medical evaluation:

Psychiatry

Endocrinology

Hematology

Internal Medicine

Cardiology  

Integrative Therapies
(acupuncture, aromatherapy, foot reflexology, acupressure...)

Neurology  
---
Why choose us

We work with a holistic view of women, taking into account every element of their well-being.

We provide the appropriate medical advice for every situation, that is based not on fads or opinions, but on the most recent available scientific evidence that is constantly being updated.

We have our own protocols that have been specifically designed for pre-pregnancy assessments and are constantly being updated.

We are a leader in our field with more than 80 years of experience, and we are pioneers in the prevention, diagnosis and treatment of diseases and disorders in women.

We offer an integrated service that enables us to perform all the necessary tests and consultations on the same day and in the same place.
---
Testimony
Lorena, 33 years old. Barcelona
"When I decided to get pregnant I had a lot of doubts. I was afraid of having problems or it taking longer than I'd hoped. But visiting my doctor made me much calmer. She did all the necessary tests, gave me advice and guidelines for changing my habits and it was much easier to get pregnant."
---
---