Wherever you are, here's your space
What if we care not only about your health but about your comfort too? At Dexeus Mujer we want you to be able to access all the information you need, whenever you want, no matter where you are. Welcome to your private space.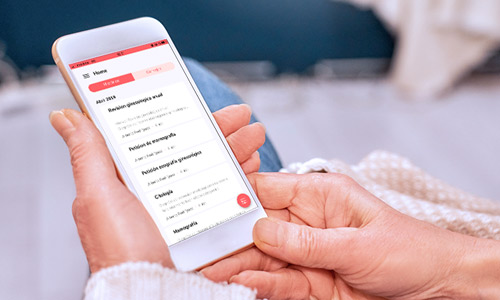 Discover the new Dexeus Mujer application
The Dexeus Mujer application is designed so that you can access all the information of your medical history and procedures related to your gynaecological health, facilitating the access to your patient's private area from your mobile device. And of course, with all the necessary security measures to keep your information safe and confidential.
Download the app and log in with the same passwords of your private area.
If you do not have them, request them at the International Department.
The advantages you get
With this app, you will be able to:

Access your medical history: all the information related to your visits, performed exams, treatments etc., will be orderly filed.

See, share, and download your exams and ultrasounds: you will be able to consult, share, and download the exams you performed, including laboratory blood tests. During your pregnancy you will be able to follow your baby's growth thank to 4D and 5D ultrasounds and you could also download the 4D/5D ultrasound images and video, as well as heart beating's.

Reproduction treatment follow-up: you will have at your disposal all monitoring visits with the results of the blood tests and ultrasounds, as well as the medication, doctor's advises before the pick-up and the reports of your cycles. Moreover, you will be able to observe in real time your embryos evolution, through the technology of incubation with dynamic monitoring.

Access your exams and analysis prescriptions: you will be able to check the date of your last annual revision or blood test, etc.

You will receive notifications of test results or the available documentation.

Help advices adapted to you and related to your medical history.

Add health data related to your menstrual cycle, physical activity, and glucose and blood pressure measurements.

Check your agenda: your appointments will be always up-to-date and organized.

Request an appointment: you will be able to request an appointment with your doctor from your own space.

Certificates or medical reports: the easiest and quickest ways to ask for the documents you need and check them.
How to access
In order to access the application, you must be a Dexeus Mujer patient and have previously registered.
Ask for you access keys at the International Department and start enjoying the benefits of your own virtual space.
Accesibility:

all the information you need, no matter where you are and from your mobile phone, 24 hours a day.

Convenience:

manage your agenda and medical appointments whenever you need it.

Safety:

maximum confidentiality by data processing.
Don't wait longer and access now all the information you need!
Any doubt? We will be glad to help you in our International Department.