Endometriosis: recognise the signs
If you have very heavy periods or strong menstrual cramps, you may suffer from endometriosis. It is essential to diagnose it as early as possible to be able to control it successfully.
So, if you have any of these symptoms, come to our clinic. A visit in time can prevent future problems.
What is endometriosis
Many women experience changes in their menstruation that they consider "part of the cycle" but could be a disease called endometriosis: this is a benign disease caused by the endometrium (the mucous membrane that lines the inside of the uterus) growing in areas of the abdomen where it should not. It can settle forming plaques or cysts that can cause severe headaches and lead to difficulties getting pregnant.
Endometriosis is a disease affecting more around 10% of women of fertile age and could cause two main problems: pain and infertility. It is estimated that 30-40% of women with endometriosis may have difficulties achieving a spontaneous pregnancy.
What are the symptoms
The symptoms of endometriosis vary widely and in some cases there may be none at all. So it is important to see your doctor if:

You have severe menstrual pain.

You experience abdominal pain outside your menstrual cycle.

Sexual intercourse is painful.

Your periods become heavier.

You have fertility issues.

You have nausea or vomiting.

You feel weak, tired and dizzy.
---
What's the solution
Every woman is different, so the diagnosis and treatment will be different in each case. For this reason, a complete examination is essential for deciding the treatment, which will depend on factors such as age, symptoms, the desire to become a mother, etc. So in some cases the solution may be pharmacological, while in others medical and/or surgical treatment may be required.
If you have any of these symptoms, don't delay: make an appointment to see one of our expert gynaecologists.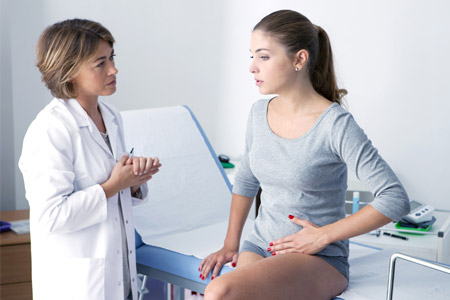 ---
Why choose us

Our Endometriosis Unit allows early diagnosis using a minimally invasive medical approach.

Our facilities are equipped with the latest diagnostic imaging technology. Our team of radiologists specialises in the diagnosis of endometriosis.

We have a high success rate in both endometriosis and pregnancy.

Our Reproductive Medicine Unit has its own medical protocols for the treatment of infertility associated with endometriosis.

Our Endometriosis Unit is made up of a multidisciplinary team which comprises physicians from other specialities and is able to provide medical-surgical treatment in cases of severe endometriosis with multiple organ involvement.

Our clinic is a national centre of excellence with over 80 years of experience. We are pioneers in prevention, diagnosis and treatment in the field of women's health.

Our facilities allow us to meet all your safety requirements and to provide an integrated circuit in which diagnoses, treatments, consultations and interventions are centralised.

You will be in the best hands, in a first-rate hospital setting with a 24-hour emergency department.
---
Testimony
Testimonial patient affected by endometriosis
We introduce you Amanda, a Dexeus Mujer patient who had realised she was affected by endometriosis because she was unable to get pregnant. Would you like to know her story?
---
---