The confidence of being in the best hands
At Dexeus Mujer, we can offer you our Specialist Breast Cancer Unit and the latest technological developments in diagnosis and treatment.
Breast cancer at Dexeus Mujer

of patients keep their breast.
of tumours are detected at the pre-invasive stage thanks to our annual gynaecological check-up protocols.
of breast cancer cases are diagnosed in women under the age of 50.
of breast cancer survival
When should I come
We recommend a visit to our clinic if you have:
A diagnosis from another clinic and need a second opinion.
Any of the following symptoms and require a diagnosis to confirm or rule out the presence of a tumour:

Lump or mass in the breast and/or armpit.
Changes in the size or shape of the breast.
Changes in the texture of the skin (orange peel skin).
Changes in colour (reddening of the skin).
Nipple changes (inversion) or nipple secretions.
Change of nipple direction.
Retraction of the area of skin in the breast and/or nipple.
Discharge from the nipple.
Having any of these symptoms does not mean that you have cancer, but we recommend that you make an appointment with a gynaecologist.
Programme for the prevention and early diagnosis of breast cancer
If you are over 20, you should have medical check-ups at least every 3 years. From the age of 40, our protocols recommend annual mammograms although if you have risk factors the mammogram should be performed earlier.
---
Diagnosis, tests and treatment
Rapid diagnosis
The most important thing to do when faced with a case of cancer is to obtain an accurate diagnosis as soon as possible in order to take the best decision for your health. This is why Dexeus Mujer has the best specialists and the most cutting-edge technology in diagnostic tests, allowing us to provide you with an initial diagnosis in 48 hours. We also offer rapid diagnoses in 2 hours with mammogram, breast ultrasound and cervical screening.
If there is a suspicion of breast cancer, we do the following tests:
Tests performed at Dexeus Mujer

Physical examination and mammogram
These allow us to locate suspicious lesions and, if necessary, the study can be complemented by other tests such as breast ultrasound.
Aspiration
If a breast nodule is suspected, we can extract cells for analysis using the FNA (fine-needle aspiration) technique. This method is fast and convenient and gives us a diagnosis in 90% of cases.

Biopsy
If a detailed study is required, a biopsy can be performed using a thicker needle or by removing the lesion and surrounding tissues.
All cases are analysed by our Gynaecological Oncology and Mastology Committee, composed of specialists in gynaecology, medical oncology, radiology, pathological anatomy, radiation oncology, cosmetic and reconstructive surgery, psycho-oncology and nuclear medicine. This Committee meets weekly to evaluate each patient's problem on an individual basis and establish a personalised treatment and the steps to take.
If breast cancer is confirmed, all the necessary tests are done to identify the type of cancer and its scope in order to determine the right treatment for each case (magnetic resonance, extension studies, sentinel node, etc.)
Personalised treatments
There are more than 50 different types of breast tumour. This means that a correct diagnosis is essential for determining the appropriate treatments for each case and the order in which these should be applied:
Surgery.
Radiotherapy.
Chemotherapy.
Hormone therapy.
Immunotherapy.
Combination therapy.
Other biological therapies.
In most cases, breast cancer is diagnosed before it has spread to other organs, and its treatment should include surgery to remove the tumour.
---
How can we help you
Specialist breast cancer unit
Our specialist breast cancer unit is equipped to give you the care you need for your situation. It cares for patients with symptoms of a possible breast cancer requiring a diagnosis to confirm or rule out the presence of a tumour, and for patients with a diagnosis from other clinics who come to us for treatment.
The specialist breast cancer unit also offers a second opinion service to help guide each patient in making their decisions based on the genetic and molecular characteristics of the tumour cells.
Our interdisciplinary committees
Many women with a prior diagnosis come to Dexeus Mujer for orientation, since we have interdisciplinary committees that analyse all cases and determine the protocols to follow.
Our committees are comprised of oncologists, gynaecological oncologists, surgeons specialising in the breast, pathologists, radiation therapists and radiology specialists. These professionals share their opinions and make the best decision for your situation.
With this multidisciplinary team, you can also undergo all the tests and receive all the treatments that you need in a coordinated procedure in the same place and within the minimum possible time, without having to make extra trips or arrange separate visits to different specialists.
These committees work hard to:
Individualise cases for the purpose of designing a personalised diagnostic and treatment strategy for each patient.
Establish the treatment to apply through consensus.
Monitor the follow-up of each patient.
Promote basic and clinical research and further the continuous updating of cancer knowledge in order to improve the diagnosis and cure of our patients.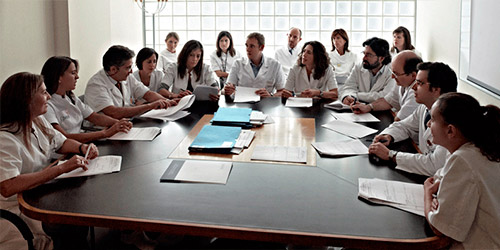 Cancer patient care service
At Dexeus Mujer, we offer our cancer patients a specialist care service with the advice and support they need. From diagnosis to tests and treatment, the patient is accompanied at all times and given guidance and the answers to any questions that they may have. We also have a team of specialist physiotherapists, acupuncturists, geneticists and dermatologists.
Tel: (+34) 93 227 47 00
Email: cgom@dexeus.com
---
"Initial impact" programme
The diagnosis of cancer is a huge emotional shock for the patient and their families that can affect both the acceptance of the process and the outcome of the disease. This is why Dexeus Mujer has partnered with the Spanish cancer association Asociación Española Contra el Cáncer (AECC) to bring its patients the "Initial impact" programme, offering psychological counselling to newly diagnosed women and their families, and accompanying them throughout the process.
The programme offers patients and their family a cancer psychologist. From the moment of the cancer diagnosis, this professional identifies the emotional and social needs of the patient and their family, and advises them on the resources they will require. After gauging the level of emotional distress, the psychologist refers the patient to a professional service that will meet their needs and those of their family, should they so require. The aim is to attend to patients as soon as possible and to complete the psychological treatment within a period of 31 days from the time of diagnosis.
---
Free preservation of fertility
Some cancer treatments can cause infertility. Therefore, at Dexeus Mujer we offer women the possibility of preserving their fertility so that, once they have overcome the disease, they can fulfil any desire of being a mother.
    
Dexeus Mujer and Hospital Universitari Dexeus offer free fertility preservation treatments for all cancer patients diagnosed and treated at our clinic.
The fertility preservation programme for cancer patients of the Dexeus Mujer Foundation also has an annual budget set aside for patients of other clinics. This budget is limited so if you are coming from another clinic, you should contact our International Department (93 227 48 96) to confirm that it would be free in your case.
---
Why choose us

With 50 years of experience treating more than 30,000 patients, we have been endorsed as a leader in the fight against women's cancer.

Since the creation of our first Gynaecology, Oncology and Mastology committee in 1974, made up of specialists in gynaecology, oncology, radiology, pathological anatomy, radiotherapy and aesthetic surgery, we have worked with the goal of evaluating each patient's issue individually in order to establish a personalised and tailor-made treatment.

Our committee studies more than 1,200 cases a year, which are treated in one of Europe's largest private centres devoted exclusively to women.

We have the most advanced technology for the diagnosis and treatment of cancer, with state-of-the-art ultrasound machines and very low radiation mammography equipment which allows us to offer our patients reliable diagnoses from a very young age and without radiation risks, as well as laser and endoscopy equipment for the treatment of pre-invasive lesions.

In addition, our Clinical Genetics Unit can determine if you have a genetic risk of developing breast cancer. If so, we provide clinical monitoring even before it is diagnosed.

We have a dedicated cancer care service.
---
---