Breast cancer testimonial volunteering
Dexeus Mujer Foundation launches a program of support and guidance for oncological patients through volunteers who have overcome breast cancer.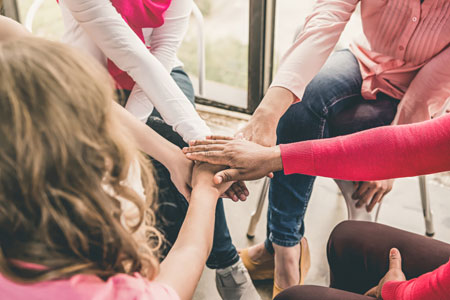 The objective of this program is that the patient who has physically and emotionally overcome a breast cancer can help with her testimony a woman diagnosed with the disease, offering her a model of positive coping and overcoming the disease.
What is it
The testimonial volunteering for patients with breast cancer is an accompaniment and support/help program aimed at women who had a breast cancer surgery to help them during their physical, psychological and aesthetic rehabilitation.
The volunteers are women who have gone through the physical and emotional recuperation process and who, through this program, will share their experience with other women who are currently facing the same situation they lived before.
Women enduring a diagnosis of breast cancer need to identify themselves with another woman who is an example of positive coping and who understands their concerns.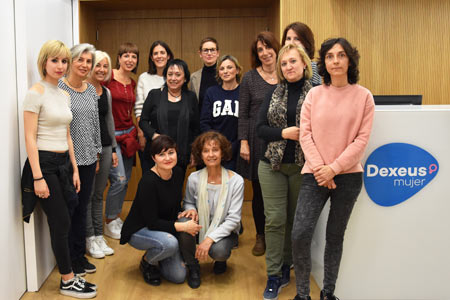 Program's benefits
For the patient:
Normalizing emotional reactions.
Reducing feelings of isolation, anxiety, and depression.
Reducing the feeling of uncertainty and/or loss of control.
Increasing confidence in the future.
Facilitating coping and adaptation processes.
For the volunteer:
"Volunteering helps me increase my personal competence".
"It allows me to experience the balance of giving and receiving".
"It allows me to improve my communication skills".
"It helps me analyse my own problem with more distance and get a new perspective on things".
"It gives me satisfaction to be able to generate a positive impact at a social level".
"It increases my sense of personal well-being, self-esteem and quality of life".
---
Would you like to contact a volunteer?
The diagnosis of a breast cancer can be a great concern. We want our patients to be accompanied at all times both at a medical and paramedical level, for better support and guidance.
Do you want to be a volunteer?
If you think you could help other women who are going through the same situation that you went through, get in touch with us.
Contact us:
E-mail: voluntariado@dexeus.com
Phone: +34 680 795 265
Time: Monday, 9 am to 8 pm | Tuesday to Friday, 9 am to 3 pm.