Caring for the oncology patient
The Oncology Patient Support Unit aims to improve the health and well-being of patients in coordination with the units that carry out the main treatment.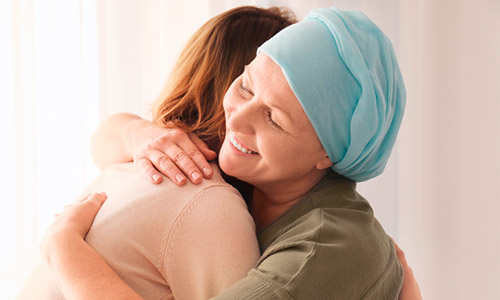 What services do we offer:
Genetic risk consultation.
Regenerative and functional medicine consultation.
Psycho-oncology.
Nutrition.
Acupuncture.
Oncology nursing.
Physiotherapy.
Areolar and facial micropigmentation.
Oncology Patient Care Service.
Complementary activities and workshops.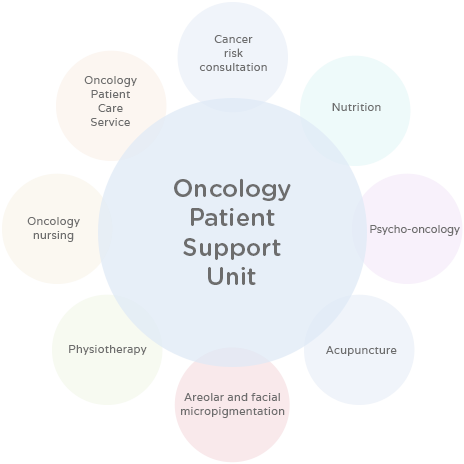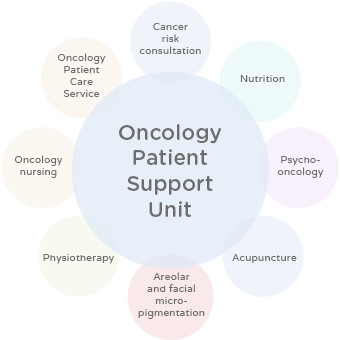 Visits are coordinated in order to optimise time and so we can adapt to your needs.
We also make visits to the Day Hospital and the ward so that patients do not have to travel if they are admitted.
---
Genetic risk consultation
During the Genetic Risk Consultation we will assess your background and advise you on your personal cancer risk.
To do this we will put together a family tree and even carry out a genetic cancer test to establish your family's hypothetical risk.
---
Psycho-oncology
Coping with the impact of the disease
The cancer diagnosis, the treatment, the subsequent monitoring and the potential for a recurrence of the disease can all have a strong psychological impact.
How might the disease affect me?
How can I recognise that my psychological state is being affected more than would be expected?
Can my emotional state influence the development of the disease?
How could psychological treatment help me?
In the Oncology Patient Support Unit, we offer:
Assessment psychological care.
Psychological care of patients during the various stages of the cancer process (diagnosis, treatment and disease-free interval). Outpatient, ward and day hospital support to facilitate adherence to psychological therapy.
Emotional support and advice to family members of cancer patients.
Psychological support to patients whose genetic results are positive. We teach them how to manage feelings of vulnerability, guide them in communication with their immediate family and accompany them emotionally while they make prophylactic decisions.
Smoking cessation support for oncology patients.
---
Nutrition
We offer personalised diets for oncology patients, developed by our nutrition service:
Nutrition assessment and guidelines before, during and after cancer treatment.
Weight monitoring and control.
Alleviating side effects through nutrition.
Physical activity to tone muscles and avoid muscular atrophy.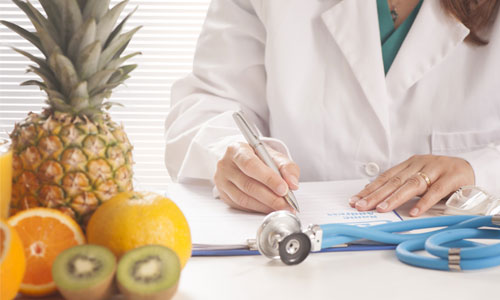 ---
Acupuncture
We offer you the possibility to improve your well-being and complement treatments with acupuncture, a medical treatment that involves inserting needles into certain parts of the body and manipulating them.
This is a technique of Chinese origin that helps to alleviate insomnia and anxiety and helps to support cancer procedures:
Its immunomodulatory effects help and support the immune system.
It eases anxiety and improves well-being, helping with procedures that generate a lot of uncertainty.
It helps to treat pain, particularly musculoskeletal or tissue pain after radiotherapy.
It can provide protection against iatrogenic peripheral neuropathy.
Helps to treat nausea and vomiting due to chemotherapy, as well as fatigue after chemotherapy.
---
Oncology infirmary ongoing care
We provide a specific consultation service for potential post-surgical treatments. In the infirmary we assess wound progress and schedule social support visits for the patient. During these visits we can help with any queries regarding treatments and their side effects and give advice on how to manage the disease.
---
Physiotherapy
Oncology physiotherapy helps the patient to prevent the possible development of sequelae, in addition to aiding with recovery. We particularly recommend this service if you suffer from any of the following:
Breast or gynaecologic cancer
Lymphedema.
Tightness.
Pain.
Axillary web syndrome.
Fibrosis.
Lack of mobility.
Side effects of surgery.
Side effects of radiotherapy.
Side effects of chemotherapy (muscle and joint pain, headaches, fever, general malaise, tiredness).
Side effects of hormone treatment (sexual dysfunction, stress incontinence, pelvic organ prolapse).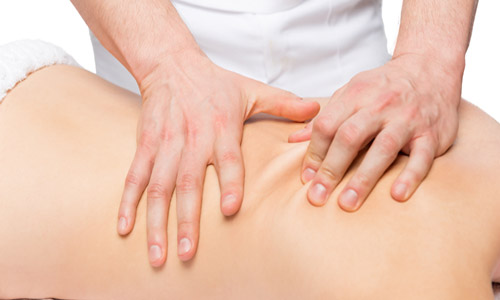 Colon cancer
Incontinence.
Pain.
Fibrosis.
Scars.
Numbness.
Lymphedema.
Side effects of surgery.
Side effects of radiotherapy.
Side effects of chemotherapy (muscle and joint pain, headaches, fever, general malaise, tiredness).
Prostate cancer
Stress urinary incontinence.
Urge urinary incontinence.
Anal, fecal or gas incontinence.
Digestive disorders, such as constipation.
Lymphedema in the lower limbs, penis, or scrotum.
Scarring.
Fibrosis.
Pain.
Side effects of surgery.
Side effects of radiotherapy.
Side effects of chemotherapy (muscle and joint pain, headaches, fever, general malaise, tiredness).
Lung cancer
Side effects of surgery.
Side effects of radiotherapy.
Side effects of chemotherapy (muscle and joint pain, headaches, fever, general malaise, tiredness).
Difficulty breathing.
Fatigue and tiredness.
Pain.
Fibrosis.
Lymphedema.
---
Areolar and facial micropigmentation
Areolar micropigmentation is a technique that consists of injecting pigment under the skin. We offer this service to all our oncology patients with a nurse specialised in oncology and plastic surgery to:
Improve the aesthetic appearance of the nipple and areola after breast surgery.
Hide surgical wound scars.
Improve the appearance of the eyebrows when receiving chemotherapy treatment.
---
Oncology Patient Care Service
The professionals who provide this service coordinate with the Support Unit and are responsible for managing medical reports.
This service provides ongoing, direct or telephone contact with you and serves as the link between the Support Unit and the Oncology Department.
---
Complementary activities and workshops
We also offer a variety of medical visits focused on a number of different issues, such as preservation of fertility, beauty and cosmetics, menopause or sleep disorders.
We organize group therapies, workshops and informative sessions:
Multidisciplinary group therapy for women with breast cancer or gynaecologic cancer.
Workshop for people with positive genetic results.
Nutrition workshop for oncology patients.
Informative sessions on genetics and cancer.
---
Why choose us

Casi 50 años y más de 30.000 pacientes nos avalan como centro de referencia en la lucha contra el cáncer femenino.

Desde la creación de nuestro primer comité de Ginecología Oncológica y Mastología en 1974, integrado por especialistas en ginecología, oncología, radiología, anatomía patológica, radioterapia y cirugía estética, trabajamos con el objetivo de evaluar el problema de cada paciente de forma individualizada para establecer un tratamiento personalizado y a medida.

Nuestro comité estudia más 1.200 casos al año, que son tratados en uno de los centros privados más grandes de Europa dedicados exclusivamente a la mujer.

Disponemos de la tecnología más avanzada para el diagnóstico y tratamiento del cáncer, con ecógrafos de última generación y mamógrafos de muy baja radiación que permiten ofrecer diagnósticos fiables desde edades tempranas y sin riesgo de radiación, además de técnicas de láser y endoscopia para tratamientos de lesiones preinvasoras.

Además, nuestra Unidad de Genética Clínica puede determinar si hay riesgo genético de padecer esta enfermedad. En caso positivo, realizamos un seguimiento clínico incluso antes de que se diagnostique la enfermedad.

Contamos con un servicio específico de atención a la paciente oncológica.
---
Testimony
Carlos, 53 years old. Barcelona
"It's been two years since I beat my cancer. I have now realised in hindsight how important my attitude was throughout the process. Knowing exactly what was happening to me, fully understanding my treatment and feeling supported by my family and the doctors in the unit was essential for my recovery."
---
---