Want to help women with breast cancer?
06/11/2018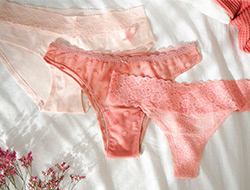 Last October was the Breast Cancer Awareness Month, that's why we decided to start a new solidarity initiative with Women'secret. We launched a new collection of female underwear composed of three knickers of different fabrics and shades of pink that can be purchased in all stores of the brand and also on-line. You will easily identify them because they have a little sticker with a pink ribbon.
All the profits obtained from their purchase will be entirely donated to the Fertility Preservation Program of Dexeus Mujer Foundation, that allows women affected by this disease to cryopreserve their oocytes for free, so that they could be mother in future, if they wish, since the chemotherapy treatment can cause sterility.
It's a rarely discussed subject, but it's important to raise social awareness, since more and more cases of cancer are detected in young women, or in women that are less than 45, who have not had children, but only less than half of them choose to preserve their oocytes, due to lack of information, the cost of the treatment or fear of a relapse.
This initiative is part of the project Things that matter that Dexeus Mujer and Women'secret launched last year in order to contribute to normalize women's life after a mastectomy and to make their everyday life easier. Within this project, Women'secret has put on sale a new post-surgical cotton bra with zip in front to facilitate mobility. Like the knickers, all the benefits that are collected by its sale will be destined to preserve the ovules of women diagnosed with cancer.
If you want to show your solidarity, share the initiative in your social networks with the hashtag #idocare! Because cancer is an issue that concerns us all, and because helping other women does matter to us.
Join the movement #idocare!
Together, we're stronger.