Cord blood banking could save your baby's life
Umbilical cord blood is rich in stem cells which are currently used to treat and cure certain diseases.
Storing umbilical cord blood could save your child's life in the future.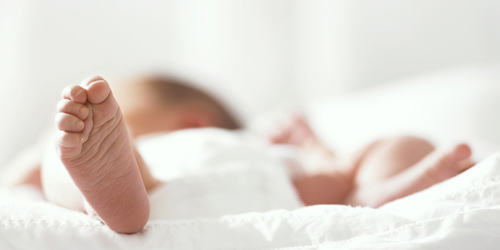 What it involves
Cord blood banking involves the collection of blood from the umbilical cord which is then processed, frozen and stored in a public or private cord blood bank (you decide which).
Using a

public bank

means that cord blood is collected and stored free of charge, and that the use of the sample is not exclusive, that is to say that the blood will be available to any other patient who might need it.
Using a

private cord blood bank

guarantees that any cord blood collected from your baby will be used only for your child and immediate relatives, and ensures the immediate availability of the stem cells in case they are needed.
Even if you decide to use a private cord blood bank, you still have the option of going to a public bank if necessary.
Cord blood banking can be used to treat and cure numerous diseases and minimises the chances of graft rejection. Thanks to the regenerative capacity of stem cells, it can be helpful in the treatment of degenerative diseases.
Why store umbilical cord blood
Banking umbilical cord blood could help protect your child against possible diseases in the future. Cord blood stem cells can also be used in the treatment of certain conditions.

Cord blood is collected after delivery. The procedure is painless, and perfectly safe for you and for your child.

Stem cells have a number of therapeutic applications, including the treatment of cancerous blood disorders and metabolic diseases.

They minimise the chances of transplant rejection by increasing graft survival and compatibility.

They hold a great potential for the future, as new potential applications are being discovered every day and new approaches developed to cure diseases that are currently difficult to treat.
---
How to store cord blood
Please tell your gynaecologist if you intend to donate cord blood to a public bank; they will give you all the necessary information.
If you decide on a private cord blood bank, Dexeus Mujer has created a list of carefully selected facilities considered to be the best in their field and which will provide you with top quality service.
To make the banking process easier for you and make sure that you don't forget anything, we have compiled a series of tips so that you know what to do and what you will need at each step.
If you decide to preserve in a private bank:
Go and talk to the International Department, to be informed about the banks we work with.
Once you hire this service, the bank will send you the documents you need to bring on the day of the birth. You won't need to worry about the collection kit, as it will be available in the delivery room on that day.
On the day of the birth:
Remember to bring with you the documents you will need to give to the midwife, as well as the labour informed consent, the third trimester blood analysis and the electrocardiogram.
---
Why choose us

Our obstetrics team has extensive experience in the collection of umbilical cord blood.

Dexeus Mujer is the leading private clinic in Catalonia in terms of cord blood collection.

Dexeus Mujer lets you choose which kind of cord blood bank you would like to use. No matter what you decide, we will be with you every step of the way.

We work with the private cord blood banks which we consider to be the best in their field and are open for business every day of the year.

These banks only process umbilical cord blood samples which contain enough stem cells for therapeutic use. If this is not the case, the cost of the services is refunded, minus the cost of the collection kit.
---
---