Want to be a mother but now is not the time? Plan ahead: if you are under 38 years old, you now have the option to preserve your ability to have children and take the next step at a later time. It's up to you!
What it is
In recent years, it has become increasingly common to delay motherhood for social or personal reasons but as a woman gets older, the number and quality of her oocytes declines. This is why many women choose to preserve their fertility so that they can become mothers with guarantees when they decide that the time is right.
What does the treatment involve
Our centers offers different methods:
Oocyte cryopreservation

: after hormone treatment to stimulate your ovaries to produce more eggs, the oocytes are retrieved and cryopreserved (a technique which consists of preserving cells or tissues at a temperature of between -80 and -196°C).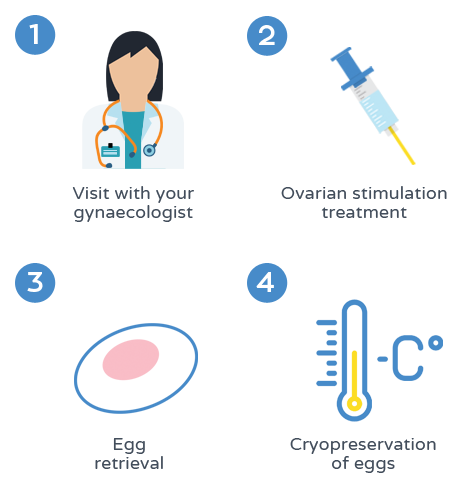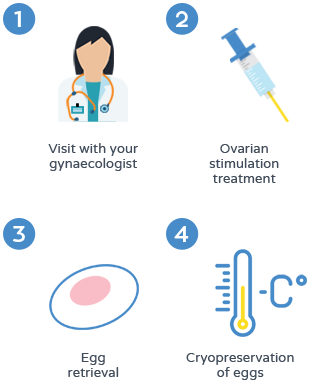 Ovarian tissue cryopreservation

: this procedure involves the laparoscopic extraction of ovarian tissue fragments for cryopreservation. Laparoscopy is a minimally invasive surgical technique in which the abdomen is accessed via tiny incisions.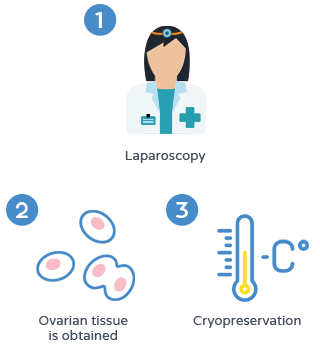 Embryo cryopreservation

: consists of extracting the oocytes, fertilising them in vitro with the sperm of the partner or donor, and cryopreserving the embryos by vitrification.

---
What happens next
When you decide that the time is right:
The desired number of oocytes are thawed.
The eggs are fertilised with semen from your partner or a donor using IVF.
The fertilised embryos are transferred to your uterus.
Make an appointment with your gynaecologist to find out which method is best for you.
---
Why choose us

Cryopreservation allows frozen eggs to retain the same quality as fresh eggs and ensures that they do not deteriorate over the years.
25% of the couples who go through our Reproductive Medicine Department have a history of treatment failure in other clinics. Even so, we maintain the same pregnancy success rates.

We provide psychological support in case of emotional overload, an issue which frequently affects women who undergo assisted reproduction treatments.

We are pioneers in reproductive medicine. We have more than 80 years' experience behind us and a team of highly qualified and specialised professionals. The first Spanish test-tube baby was born in our clinic (1984) and Spain's first egg donation treatment was carried out here, which culminated in the birth of twins (1988).

Extensive experience, quality and cutting-edge technology. We have one of the top in vitro fertilisation laboratories in Europe where we perform over 3,000 cycles (assisted reproduction techniques) each year. We offer the latest advances in assisted reproduction, such as intracytoplasmic sperm injection and real-time monitoring of embryo development (dynamic monitoring).

Facilities and 24-hour emergency service. All consultations and medical tests can be done at the clinic: insemination in consultation without hospitalisation or anaesthesia, oocyte retrieval, own IVF and andrology lab. We also offer a 24-hour medical emergency service.
---
---
(1) If you live in Spain, please notice that you can benefit from a 12-month financing with no interests.