An opportunity to experience pregnancy
Want to be a mother and enjoy the experience of pregnancy? With egg donation, you can. Our pioneering assisted reproduction clinic guarantees great results with the most stringent donor screening programme in the country.
IVF with donated eggs is an assisted reproduction technique which allows the insemination of donor eggs with the sperm of the recipient's partner (or a donor) to obtain embryos which are then transferred to the uterus of the mother-to-be.
Before carrying out the treatment, it is essential to undergo a fertility test for diagnostic purposes and to determine the most appropriate treatment for each patient.
In our clinic, all donor eggs undergo thorough and stringent screening tests; preconception genetic testing, which allows to either detect or rule out up to 300 hereditary diseases, is also performed. The patient's partner also undergoes preconception genetic testing, as does the semen donor in cases where the use of a sperm bank is required.
Step by step
The process consists of the following steps: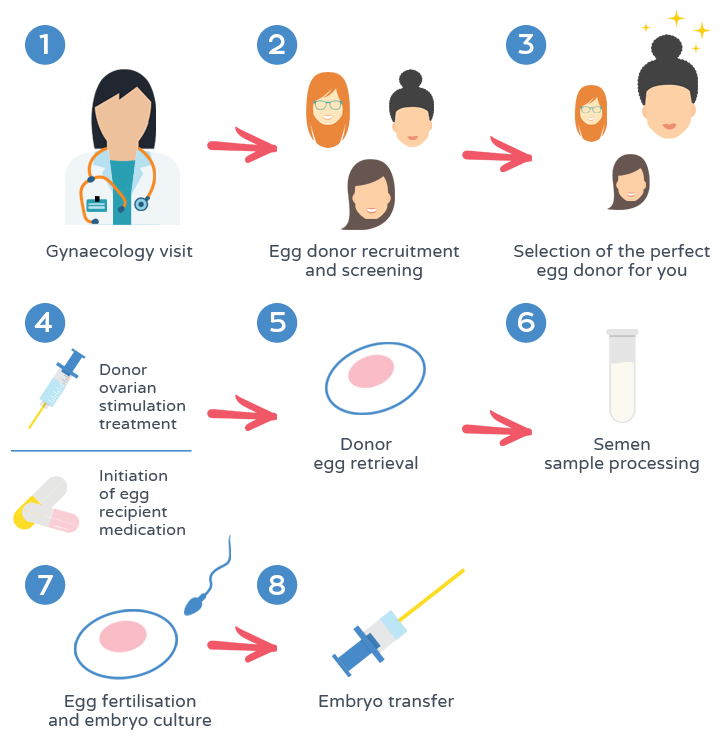 Our team will review your medical history and tell you what steps to take.
All of the donors in our egg donation programme are guaranteed to undergo a stringent screening process.

With the guarantee that the physical characteristics of the donor are similar to yours.

Hormone treatment to obtain the maximum possible number of eggs. Alternatively, eggs from egg banks may be used. The recipient takes tablets in order to prepare the endometrium.

The eggs are harvested by follicular puncture, performed transvaginally.

To ensure that the most motile sperm cells are selected.

The eggs are inseminated in the lab, checked to see if they have been fertilised, and cultured for 2-5 days.

The embryos are deposited in the uterus by a very simple procedure which does not require anaesthesia.
---
Who it is for
IVF with donated eggs is recommended if:
You no longer have ovaries because they have been removed.
Your ovaries do not work well, whether:

for physiological reasons, such as menopause,
for genetic reasons,
due to early failure.

You are a carrier of a genetic disease, and there is no other way we can prevent its transmission.
You have not managed to become pregnant after various IVF attempts using your own eggs.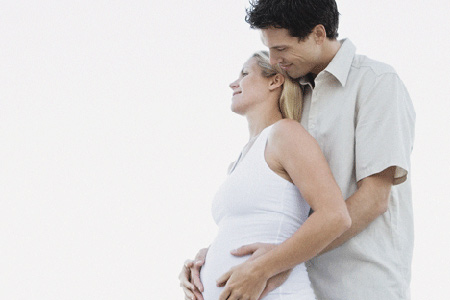 ---
Why choose us

We are pioneers in reproductive medicine. We have more than 80 years' experience behind us and a team of highly qualified and specialised professionals. The first Spanish test-tube baby was born in our clinic (1984) and Spain's first egg donation treatment was carried out here, which culminated in the birth of twins (1988).

Quality assurance. Our egg donation program guarantees a rigorous selection of donors who undergo the most comprehensive health and genetic screening tests on the market in order to minimise the risk of transmission of possible genetic diseases.
High success rate. 25% of our patients come from failed treatments at other centres. However, our success rates are around 60% at the first attempt and around 80% overall cumulatively.

Extensive experience, quality and cutting-edge technology. We have one of the top in vitro fertilisation laboratories in Europe where we perform over 3,000 cycles (assisted reproduction techniques) each year. We offer the latest advances in assisted reproduction, such as intracytoplasmic sperm injection and real-time monitoring of embryo development (dynamic monitoring).

We provide psychological support in case of emotional overload, an issue which frequently affects women who undergo assisted reproduction treatments.

Facilities and 24-hour emergency service. All consultations and medical tests can be done at the clinic: insemination in consultation without hospitalisation or anaesthesia, oocyte retrieval, own IVF and andrology lab. We also offer a 24-hour medical emergency service.
---
Testimony
Sandra and Marty, together at last
"After trying virtually every method imaginable to get pregnant, after many years of waiting and several miscarriages, Sandra eventually tried egg donation, an option she had never even considered at the start. The result was Marty, whom she describes as "her little miracle".
---
---