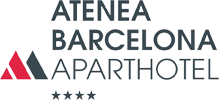 Joan Güell, 207-211 (

:5 min.)
Web: Atenea Barcelona
E-mail: atenea@cityhotels.es
Telephone: +34 93 490 66 40
Special rate for Dexeus Mujer patients:
To reserve send an email to reservas.atenea@cityhotels.es with the guest's name, room type, arrival and departure dates and a credit card as guarantee.
Essential on arrival at the aparthotel:
Signing a sworn declaration of need for accommodation.
Copy of the proof of the appointment in the hospital.
Only Accommodation (the restaurant is closed)

 

Rooms for single use

Rooms for double use

Triple use rooms

Rooms for family use four

Only Accommodation

56 €

60 €

74 €

94 €
Only accommodation (the restaurant is closed). In all apartments there is a fully equipped small kitchen.

Tourist taxes not included. Price € 1.21 / adult / night.

Check in: 14:00 pm / Departure: 12:00 am.

Near the hotel there is an open cafe and supermarket.

Important:
You must identify yourself as a patient of Dexeus Mujer at the moment of the booking.